English Literature announces the English essay competition for Sixth-Form and FE Students
15th May 2014
---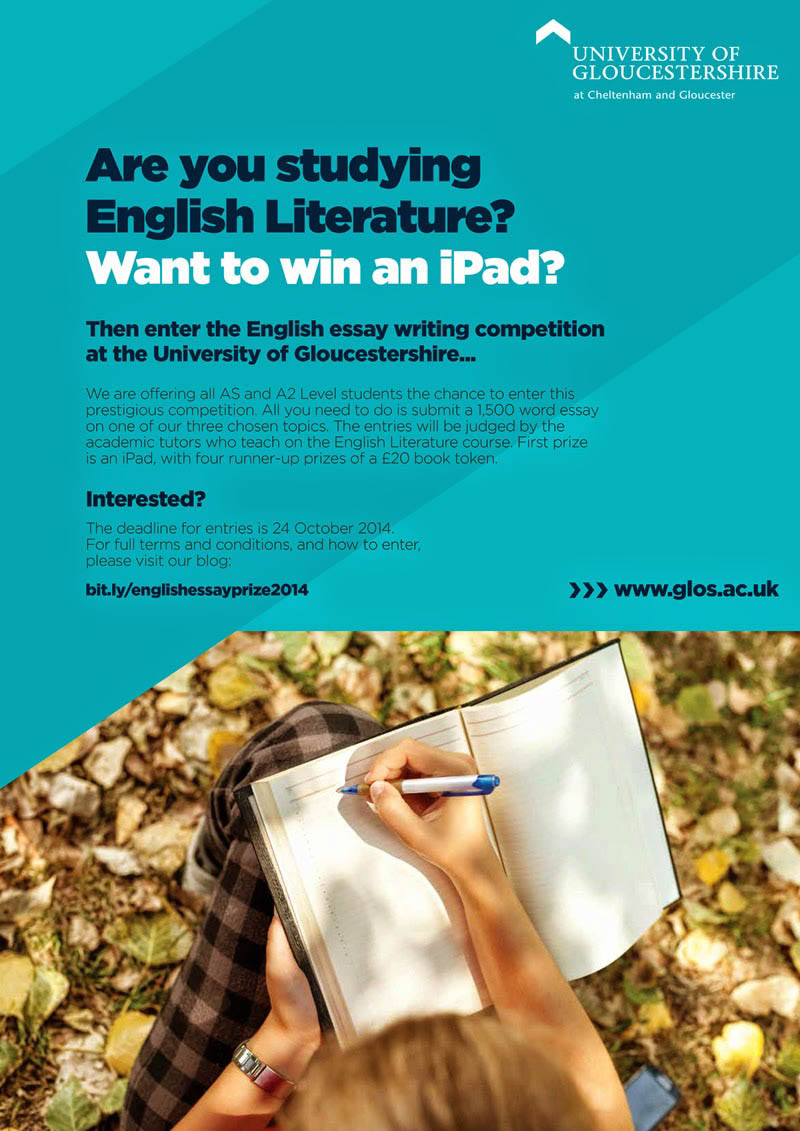 ENGLISH LITERATURE ESSAY COMPETITION 2014
First prize: a new iPad
Four Runners-up receive a £20 Book token
The competition is open to all those currently studying for any AS or A2-level examinations (or equivalent) in the UK. The first prize is a new iPad, and there will be four runners-up prizes of £20 book tokens.
Entries must be no longer than 1500 words including footnotes but excluding references. All sources must be referenced.
The deadline for the 1500 word essay is 5pm on Friday 24 October 2014 and will be judged by English Literature lecturers. The winner will be announced on the English Literature Blog on 1 December 2014.
To enter please choose one of the titles below and email your entry to
hweeks@glos.ac.uk
 (please note you may only submit 
one
 entry to the competition).
Entries 
must
 be written
as a Microsoft Word document. Entries will normally be acknowledged within 5 days. In your email, please put your name, the Sixth Form or FE college you attend, and the title you have chosen to answer. The subject of your email should be '
essay competition'
.
The University of Gloucestershire reserves the right to publish entries but entrants will retain copyright over their work. We intend to publish the winning essay on the English Literature Course Blog at 
http://eng-glos.blogspot.co.uk
Choose one of the following titles:
Title 1: The Book in a Bottle. The Second Flood has drowned the world, and you can save only ONE book for future generations. Which book must survive? Argue your case.
Title 2: 'Oh! It is only a novel' (Jane Austen, Northanger Abbey). Is the novel form relevant to contemporary culture?
Title 3: 'Now, what I want is, Facts. Teach these boys and girls nothing but Facts. Facts alone are wanted in life'. (Charles Dickens, Hard Times). Is fiction more important than fact, and if so, why?
Remember:
·       1500 words maximum
·       Your essay must include the title, your name, your school, and state your contact email at the top of the page
·       The essay must be an attachment to the email as a Microsoft Word document
Any essay that does not satisfy these three conditions will not be considered by the judging panel.
The panel decision is final, and no correspondence will be entered into.