Recent Publications by our History Team
25th November 2015
---
Congratulations to former UG History staff member Dr Anna French on the publication of her new book Children of Wrath: Possession, Prophecy and the Young in Early Modern England (Ashgate, 2015).
This book explores questions surrounding early modern childhood, focusing especially on some of the extreme religious experiences in which children are documented: those of demonic possession and godly prophecy.
For more detail see: http://www.ashgate.com/isbn/9781472443694
Congratulations also to former PhD student Dr Carrie Howse on part 3 of her family history and memoir You'll Never Walk Alone (emp3books, 2015). The press release for Carrie's latest book offers the following insight:
In the final part of her family trilogy, award-winning historian Carrie Howse describes how she escaped her dysfunctional home-life to train as a nurse. Both moving and funny by turns, You'll Never Walk Alone paints an evocative and realistic picture of a general hospital in the 1970s. This is a gripping and heart-warming true story, with an ending that is both unexpected and inspiring.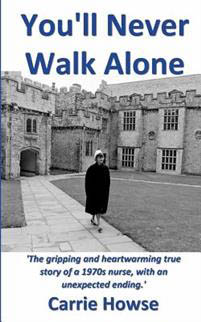 In the extract from the back cover:
When I told my mother that I wanted to train as a nurse, she reacted as if the end of the world was nigh. Her habitual attitude towards me, of patronising, disdainful disapproval and petulant, pained indignation, clearly conveyed the message that I was A Disappointment. As far as Mum was concerned, my sole purpose in life was to FIND A HUSBAND – and I had failed. It was August 1970, less than three months before my eighteenth birthday, and there was still no ring on my finger. Where had she Gone Wrong?
Dr Christian O'Connell has also published his first manuscript, entitled Blues, How Do You Do? Paul Oliver and the Transatlantic Story of the Blues (University of Michigan Press, 2015).
The book explores the birth of transatlantic interest in African American music during the 1950s and 1960s, and examines the role of this scholarship on the representation of the blues and African American culture during the famed 'blues revival,' which was very much in contrast to the political activism that affected African American life in the post-war era. Christian bases his research on the work of the most prolific and influential blues historian, the British scholar Paul Oliver, who he also interviewed over a three year period. For more information see: https://www.press.umich.edu/8108011/blues_how_do_you_do
Prof Melanie Ilic is co-editor with Prof Dalia Leinarte (University of Vilnius) of The Soviet Past in the Post-Socialist Present: Methodology and Ethics in Russian, Baltic and Central European Oral History and Memory Studies (Routledge, 2015).
This collection examines practical and ethical issues inherent in the application of oral history and memory studies to research about the Soviet Union and Eastern Europe since the collapse of the Soviet bloc. Case studies highlight the importance of ethical good practice, including the reflexive interrogation of the interviewer and researcher, and aspects of gender and national identity.
For more detail see: http://www.tandf.net/books/details/9781315678191/